The MCU is the basis of the Electronic Control Module (ECM) and is widely used in security systems, comfortable ride systems, chassis systems and driving information systems. In the automotive electronics industry, the use of 8-bit and 16-bit microcontrollers (MCUs) continues to expand. In automotive electronics systems that are about to be introduced, 8-bit and 16-bit microcontrollers continue to account for more than 75% of the total. Among the many challenges faced by embedded control designers, the two most important issues are: bringing projects to market faster; keeping development costs within budget.
This article refers to the address: http://
For the development strategy of most automotive embedded system developers and the supply strategy of ECM manufacturers, it is important to choose the right 8- or 16-bit MCU architecture. The choice of MCU affects many aspects of design, procurement, production and sales.
Automotive electronics module manufacturers are trying to reduce the number of their suppliers. Vendors choosing the right 8-bit or 16-bit MCU must first analyze the characteristics of the device itself, such as: memory technology and capacity selection, I/O pins, on-chip peripherals, system throughput, power consumption, package selection, and more.
In addition, vendors must adopt a flexible MCU architecture to provide designers with an easy-to-use and wide range of compatible products, as well as a comprehensive suite of development tools. The overall system performance requirements and the allocated MCU budget usually determine the type of 8-bit or 16-bit MCU that is best suited for ECM development. Therefore, the best microcontroller partners should adopt users
Based on a friendly architecture, the company offers a wide range of compatible devices to meet the needs of system developers for cost-effective 8-bit and 16-bit MCUs. Any microcontroller family must provide a solution for embedded system developers to reduce development costs and facilitate faster product introduction to the market. Software, peripheral and pin compatibility are key factors.
In 8-bit mechatronic applications, an 8-bit MCU with 2K bytes of program memory is typically used. If the microcontroller vendor can provide a seamless migration path that allows 8-bit code to be reused in a 16-bit body controller application that requires a 100-pin MCU with 256K bytes of program memory, then for ECM manufacturers, this will It is a big advantage. For example, the PIC MCU architecture provides seamless software portability. The architecture that supports a seamless software migration path, combined with compatible pin support, enables developers to quickly bring products to market and stay ahead of the curve while meeting budgetary requirements. Software reuse is an important means to solve the problem of the lack of embedded software development resources faced by most ECM vendors. In addition, the PIC MCU development tool suite, including the MPLAB Integrated Development Environment, provides developers with a cost-effective, seamless development environment that increases developer productivity. This will shorten the development cycle and reduce development costs.
Is the flexibility of the MCU important? For automotive ECM developers, this is not only necessary but also very important. Flexibility is an important weapon for survival in a highly competitive, cost-sensitive market environment. In order to meet customer needs, industry requirements and gain a larger market share, car manufacturers are expanding the use of electronic controls. A high-performance, architecture-compatible microcontroller supplier can provide developers with more and more flexible choices to meet market demands and address greater challenges. For ECM vendors seeking competitive advantage, flexibility is even more important in meeting time-to-market needs and responding more quickly to customer needs.
Stainless Steel Jar Food Blenders
Stainless steel Jar Food Blenders are better in quality and more stylish. Our Stainless steel Jar Food Blenders also can with 800ml stainless steel coffee grinders.
Discription of Stainless steel Jar Food Blenders
Size: 1.5L
Controls Type: Rotary switch
Speed: 2 speed with pulse
Power: 300/350W
Packing: 4pcs/ctn(standard box)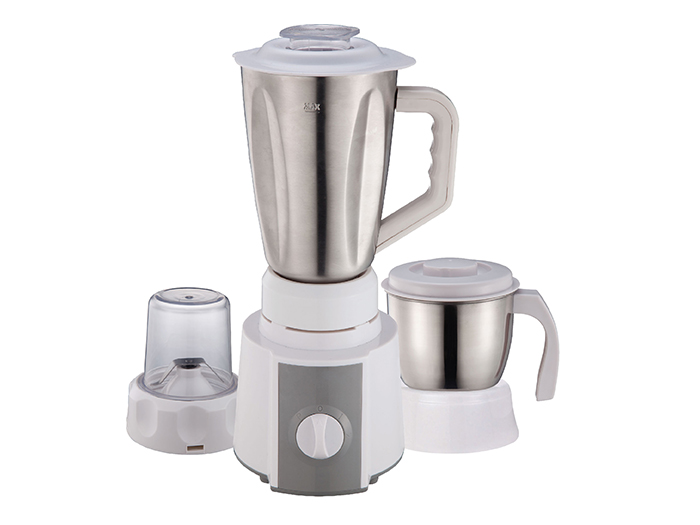 Stainless Steel Jar Food Blenders
Stainless Steel Jar Blenders,Stainless Steel Blender,Stainless Steel Blender Jar,Steel Blender
Flying Electronic Co., Ltd , https://www.flyingelectronic.com