21ic News TE Connectivity (TE) has released an ultra-thin plug-in micro SIM card connector. This advanced hardware solution can increase efficiency while reducing the cost and size of end products. Compared with the previous generation plug-in Mini SIM card connector, TE's new product can save an additional 35% PCB (printed circuit board) space and has a smaller form factor, which brings the size design and application of the terminal device. More flexibility.
This article refers to the address: http://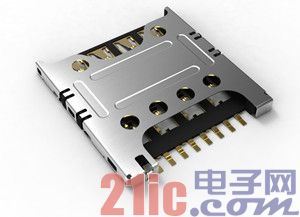 Olive Wu, product manager for card connectors at the Consumer Electronics Division of TE, said, "The ultra-thin plug-in micro SIM card connector was designed to meet the growing demand for low-cost, high-quality multi-card mobile devices in the global market. The latest connectors are a popular product in our popular SIM card connector product line."
Key features and benefits of the ultra-thin plug-in Micro SIM card connector include:
l Ultra-thin: its height is only 1.24 mm – the thinnest in TE's entire SIM card connector product line, making it ideal for small and stylish consumer electronics
l Two mounting positions (6 or 8 bit) provide greater flexibility for terminal device size design
l Unique contact with SIM card detection switch for better protection of circuit connections without taking up extra PCB space
l Enhanced Micro SIM error-proof insertion prevents incorrect card insertion and prevents connector contacts from being damaged due to improper insertion of SIM card
Olive Wu said, "TE is committed to providing high quality, durable SIM card connector technology to a wide range of customers throughout the industry chain to meet specific design needs and to ensure cost-effectiveness and product quality."
TE This plug-in micro SIM card connector is mainly suitable for mobile phones with a removable backplane.
we design and manufacture Actuator For Dual Axis Azimuth Tracking System, which is widely used for solar system.
U10 is a heavy load Linear Actuator designed for industrial application, especially be used for solar tracking system & heliostat.
The Solar Tracker Linear Actuator is a heavy load linear actuator designed for industrial application, especially be used for solar racking system. U10 is a robust and powerful actuator, designed for heavy-duty applications in harsh environments like solar tracker. It features high load capability, long lifetime and low power consumption.
Actuator For Single Axis Azimuth Tracking System
Electric Linear Actuator For Single Axis Azimuth Tracking System, Linear Actuator For Single Axis Azimuth Tracking System, Actuator For Single Axis Azimuth Tracking System
TOMUU (DONGGUAN) ACTUATOR TECHNOLOGY CO., LTD. , http://www.tomuu.com